Beautiful Classic Lace Transparent Craft Umbrellas
"Are you looking for Chinese classical things? There are many special things in China. The beautiful Craft Umbrellas are the symbo...
$11.99
DinoDirect
Charles Craft Bookmark White with Lace edge
Bookmarks are 18 count Aida with an approximate stitching area of 32x92 spaces. White Lace......
$4.99
CreateForLess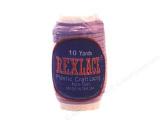 Pepperell Vinyl Craft Lace Rexlace 10yd Mini Spool Lavender
Pepperell Vinyl Craft Lace is available in many brilliant colors, is durable, non-toxic and non-bleed. A wonderful craft item for ...
$2.97
CreateForLess